Went to Krabi on a 4d3n trip right in the middle of the semester in April. New travel buddies but had a really wonderful time.
From the airport to our hotel at Aonang Beach, we used the services by
krabishuttle.com/
instead of the hotel pick up service.
Since there were 5 of us, we booked the standard minibus that could actually sit 8 people. It wasn't too expensive at 750 baht, which is about SGD6 per person. I was initially quite worried because there were some bad reviews on their FB page complaining that the driver never turned up. But it went smoothly. They picked us up at the airport with a name card printed, guided us to the minibus, and we reached the hotel in less than 30 mins, no mid-stops whatsoever.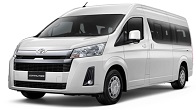 The bus was very spacious for 5 people, and had free wifi, which was a bonus seeing that we didn't have local SIM cards.
No issues going to the hotel at all so thumbs up for that.
However, we booked and confirmed verbally with the driver for our return pick up to the airport on our departure date and they never turned up. The phones could not be reached so we were like, panicking and scared that we'll miss our flight. Lucky the hotel managed to get us a car in time.
Bottom line: krabishuttle is good but you have to book through their website and double confirm with them before anything else.